08 Jun

Great ways to keep the family active this summer.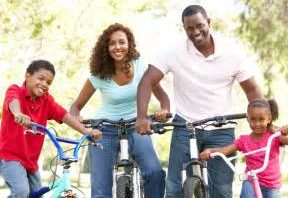 For most kids, there's really nothing quite like the end of the school year. Classes, homework, and any formal schedule are pretty much done, and the biggest concern is figuring out what to do with all that free time. Though lazing around in front of the computer or television is a common free time activity, studies show that sedentary kids are likely to experience unhealthy summer weight gain. Getting your kids to exercise may be a challenge, but you can motivate them to get moving with these expert tips.
Granted, getting your kids to do anything for a full hour can be a challenge. But experts say you can motivate them to get moving with the following tips.
1. Turn off the tube
Limit your children's television viewing to only about two hours a day. Then incorporate physical activity during their television time. Joanna Faerber, who won the 2009 National Elementary Teach of the Year award from the National Association for Sport & Physical Education for her work at the LSU Laboratory School in Baton Rouge, LA, suggests another way to sneak activity into your kids' day: Tell them to do jumping jacks during commercials. (Make it a game or a contest.)
2. Make exercise a family affair
Does most of your family time involve watching American Idol? Set a new routine. After all, children learn by example. "When you're finished eating dinner, instead of sitting around and watching TV, turn it off, or don't even turn it on, and go outside for a walk, play catch, shoot some baskets, take your dog for walk – that's always a good breath of fresh air that helps everybody," Dr Fulton says.
For More and Original Article.
Learn how you can become a Home Health Aide this summer.
(Visited 19 times, 1 visits today)